Thursday, August 13, 1998 Published at 11:38 GMT 12:38 UK


World: Europe
Eastern promise for leaning tower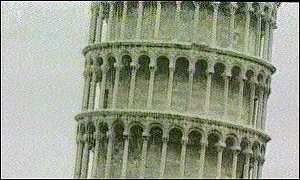 Pisa tower has been leaning for 700 years A Chinese engineer, who specialises in correcting lopsided pagodas, says he is confident he can save Italy's leaning tower of Pisa from collapse. Cao Shizhong: Methods combine eastern wisdom and western equipment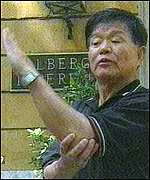 Speaking at a news conference in Rome, Cao Shizhong said he would need just 10 months to right the famous tower which began leaning immediately after its construction more than 700 years ago.
Mr. Cao arrived in Italy at the end of last month in the latest bid to save one of Europe's most celebrated monuments. He claims to have straightened out 80 leaning pagodas in China over the past 20 years and has a long held ambition to put his knowledge to use in Pisa. He gave few details of his plans but said he would combine eastern wisdom and technology with western equipment.
Italy's most famous leaning tower has been leaning practically ever since construction began in the 12th century. At present it is more than five metres out of perpendicular on its South side - an angle of more than five degrees.
In recent years the inclination has accelerated, partly due to several botched rescue plans, until in 1990 the tower was deemed dangerous and closed to visitors. Another rescue plan was worked out by engineers from several countries which involved placing a steel corset around part of the white marble tower while work is carried out to solidify the foundations. The head of the international team of experts in charge of the restoration, Michele Jamiolkowski, will meet Mr Cao next week. So far he has refused to divulge exactly how his plan to save the tower differs from the methods being used at present.
He said he would bring the inclination back to a little over two metres - as it was in the 13th century when the first attempts to straighten the tower were made.
Concessione Pubblicitaria: Anyweb Consulting srl Pisa
Copyright 1996-2014 PisaOnline.it - All rights reserved