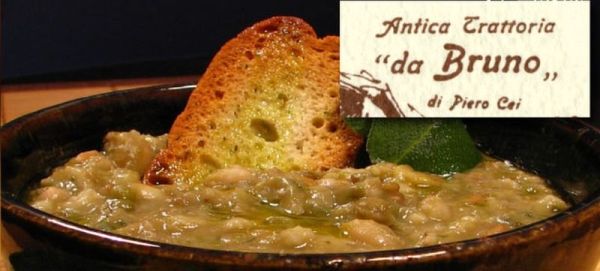 Home
>
SPECIALITIES
The taste of ancient indulgencies
What's his secret?
The Old Trattoria "at Brunos" is today one of the most sought-after destinations for gourmets and connoisseurs of fine food, for whom Piero Cei is a quite exceptional host. Why not come and meet Piero Cei, and ask him about his special wizardry: whats his secret?. "No secret", he says. "Ive just tried to maintain and enrich the tradition of Pisan cuisine."
A cuisine thats appreciated world-wide.
Whats unique in our restaurant is that we pride ourselves on always offering the right dish for the right season, from mushrooms to fish. Of course we place great emphasis on traditional local delights such as the unbeatable "Hearty soup Pisan style"; the mouth-watering "Pasta and chick-peas"; "Salt cod with leeks ", "Stockfish", but our gastronomic range is fully international and capable of satisfying even the most demanding palates".
And all the classic and most renowned Pisan and Tuscan dishes.
Tuscan almond biscuits with Vin Santo
Beef tenderloin crusted with bacon
Paccheri duck sauce
Menu Light
Bream and sea bass to the pozzolan
Chestnut cake with ricotta
Pisa cake with pegs
T-bone steak
Grilled fish of the Tyrrhenian Sea
Cut of Chianina
Cuttlefish zimino
Osso buco with beans all'uccelletta
Tripe Pisa
Baccala 'with leeks
Baccala 'grilled
Stockfish Pisa
Farro Garfagnino
Soup Pisa
Pappardelle with rabbit
Pasta and Chickpeas