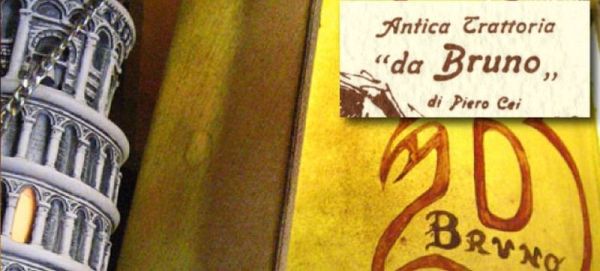 Home
>
THE HISTORY
phraise for the Antica Trattoria "da Bruno"
Why "old trattoria"?
It's simple: because the trattoria has always been there.

Situated just by the city walls, it used to be the inn where travellers arriving from Lucca or from the surrounding countryside would break their journey to dine. A hostelry that was a habitual stopping place for peasants, merchants, costermongers and carters on their way into town to ply their trade.

Old Bruno was a welcoming presence whose expertise guaranteed wayfarers a wholesome hot meal, as befitted the rustic appetite of the people of Pisa over half a century ago.

In 1969 Piero Cei took over the establishment, but he had the brilliant intuition that its time-honored tradition should not be destroyed. On the contrary, he resolved to enrich its characteristics, ensuring that his menus would be even more firmly rooted in the traditions handed down from generation to generation. Local specialities such as tripe, hearty soup Pisan style, salt cod with leeks and stockfish were not abandoned but enhanced and rediscovered. His cuisine was designed to feature all the flavours of former times that only the white-haired citizens of Pisa could remember and appreciate. A humble cuisine made of simple homespun fare, but tasting so wonderful it can amaze even the most demanding palate.

The Old Trattoria "At Brunos" is today one of the most sought-after destinations for gourmets and connoisseurs of fine food, for whom Piero Cei is a quite exceptional host. Why not come and meet Piero Cei, and ask him about his special wizardry: whats his secret?. "No secret", he says. "Ive just tried to maintain and enrich the tradition of Pisan cuisine. A cuisine thats appreciated world-wide. Whats unique in our restaurant is that we pride ourselves on always offering the right dish for the right season, from mushrooms to fish".

Of course we place great emphasis on traditional local delights such as hearty soup Pisan style, stockfish, salt cod, but our gastronomic range is fully international and capable of satisfying all palates". Piero Cei does not wish to appear boastful. He doesnt say that those who try his hearty Pisan soup or his salt cod often come back to Pisa for the specific purpose of savoring once again that magnificent taste they cant find anywhere else. And judging by the photos of people whove had themselves immortalised by the camera At Brunos, the number of "relapses" is far from small..