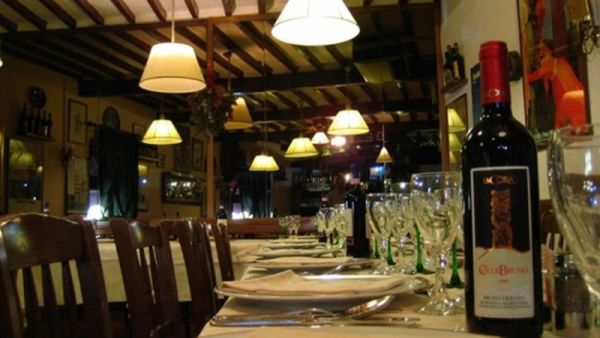 Home
>
WINE
A lot has been said about the Cooking. But what about the Wine?
Gastronomy, fine food. But what about the wine? This is certainly not an element Piero Cei neglects. Quite the opposite. "True to my love for Pisa and its traditions, I always recommend local wines: San Trop and Chianti of the Pisan Hills, in particular. Excellent wines with an outstanding tradition. But our list is extremely wide-ranging and we can offer an extensive selection of other wines that will provide a perfect accompaniment to our traditional specialities."
And here, in front of a glass of fine white wine, our short journey into the trattoria At Bruno's comes to an end. A traditional restaurant specialising in local cuisine you will find hard to forget once you have experienced it. The only risk? It may already be full!
Chardonnay "Tasca d'Almerita"
Cepparello "Isole e Olena"
Tignanello "Marchesi Antinori"
Guado al Tasso "Marchesi Antinori"
I migliori vini della tenuta A. BOCELLI
Masseto "Tenuta Ornellaia"
Amarone della Valpolicella
Vintage Tunina "Jermann"
Barolo "Ceretto"
Nambrot "Tenuta di Ghizzano"
Solaia "Marchesi Antinori"
Luce "Marchesi de' Frescobaldi"
Brunello di Montalcino "Biondi Santi"
i vini di A. Bocelli
Ornellaia
Masseto
Sassicaia