News
Pisaonline.it primo portale su Pisa dal 1996!
La versione Mobile attiva dal 2012!
Aggiornamenti continui su Pisa e provincia

SONDERANGEBOTE | BEWERTUNGEN | IN UND UM | FOTO | VIDEO | GESCHEHEN | NEWS | ANGEBOTE VON ARBEIT

IN UND UM PISA
SAN GIULIANO TERME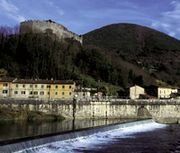 The municipality of San Giuliano Terme encompasses a large area rich in artistic, historical and natural, bordered by the rivers Arno and Serchio and extended from the slopes of the Pisan hills to Migliarino San Rossore. Have been recently established two protected areas of local interest (ANPIL): Valley of the Springs area, who wants to protect the sources and the 'Medici aqueduct (XIV century), and the area's scenic Mount Castle, which contains about forty species of orchids. The appearance of the Monti Pisani was much modified over the centuries, passing from the original forest of chestnut and fruit trees to the terraces for the production of quality olive oil, so that from here passes the Road of the same name.

San Giuliano Terme - Ripafratta, Cassero The San Giuliano Terme is also the starting point for tours of great historical and architectural interest: the Rock of Ripafratta, for centuries the scene of conflict between Pisa and Lucca, the Romanesque churches of Rigoli (VIII) and Pugnano (XI), the Hermitage of Rupecava.

The strong point of the territory are also many villas and historic houses built between the fifteenth and the nineteenth-century Pisan and Florentine families attracted by the nature and mild climate. Some of these have been restored and turned into tourist facilities or for ceremonies and conferences.

September is the ideal month for events: the September Sangiulianese offers a full calendar of shows and entertainment for all tastes, both in the capital than in fractions.

SAN GIULIANO TERME
In und um article by:
PORTALE PISA, ITALY, Pisa