News
Pisaonline.it primo portale su Pisa dal 1996!
La versione Mobile attiva dal 2012!
Aggiornamenti continui su Pisa e provincia

SPECIAL OFFERS | REVIEWS | IN AND AROUND | PHOTO | VIDEO | EVENTS | NEWS | JOB OPPORTUNITY

IN AND AROUND PISA
MONTESCUDAIO IN PISA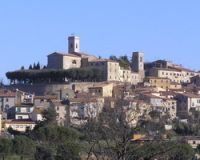 Originally the site of a Benedictine monastery in the Middle Ages Montescudaio town became an important due to its strategic location. Along the "path of memory" are the palaces of noble families, such as Marchionneschi, the Ridolfi and Guerrini, the Church of SS. Annunziata, until you reach the Tower of Guardiola and the Castle Square with the Church of Santa Maria Assunta, placed in a panoramic position above the village.

Another itineriario along the Via dei Pellegrini, the area of ​​the ancient Abbey, the recreation natural oasis of Scornabecchi and medieval sources.

Montescudaio is part of the National Association of Wine Cities, and has its own DOC which includes the towns of Val di Cecina, Volterra excluded. In 1968 he founded the Wine Festival (first weekend in October), while in 1977 the wine gets deonominazione of origin with two types: a red based on Sangiovese, Trebbiano, Malvasia and other varieties, and a white-based Trebbiano, Malvasia and Vermentino which can also be produced as vin santo dry, semi-dry or sweet.

In addition to being City of Wine, it is also Montescudaio City of Bread, the classic unsalted baked in a wood oven.

MONTESCUDAIO IN PISA
In and around article by:
PORTALE PISA, ITALY, Pisa