WHAT DREAMS ARE MADE OF
We returned to the UK today after staying here for our wedding. We married in the beautiful town hall in San Miniato and had our reception in the groundsfor Bucciano.
I cannot put into words just how amazing this place is. The views are magnificent, the swimming pool clean and refreshing, the property is beautiful, clean and very well maintained, the grounds are a Tuscan dream and the apartments have everything you need. I also cannot praise highly enough Carla and Alberto who make this such a wonderful place to stay. They are really decent people and nothing is too much trouble. The food which Carla prepared (often at short notice and for large groups) was beyond delicious. Alberto speaks very good English and both he and Carla went out of their way to make us feel welcome and at home, and they also made surprise contributions to support our wedding theme and make our day special.
We had a party of 34 in total including a 1 year old up to 70 something year olds and all had a lovely time and were accommodated with ease.
All of our guests were full of praise and many would love to return. We definitely intend to return. Casa Vacanze Bucciano is everything we want from Tuscany.
WHAT DREAMS ARE MADE OF San Miniato
(From Wednesday, June 26, 2013, never expire)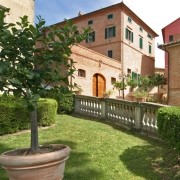 Indietro