LOVELY HOTEL, STUNNING VIEWS!
4 su 5 stelle - Recensito il 9 luglio 2013
We stayed here as part of a Riviera travel experience of Tuscany. The hotel is situated in the hills of Volterra, giving lots of absolutely stunning views.
The rooms were spacious, clean, tidy and comfy. They had two lifts to be used as well as stairs if wanted.
We stayed on a half board basis.
The breakfast started at half seven. To me this means all food should be out by half seven, however, eggs, sausage and croissants sometimes did not come out until we were half way through eating. Start breakfast at eight if you cannot get stuff ready in time! Also we felt the choice very limited, there was no bacon, small cakes, only two choices of cereal, no waffles, pancakes or range of breads. For a four star hotel I feel the choice was too limited. Although, I did enjoy what I ate!
Ate tea time, we had to order the evening before. However, you only had two choices, being either meat or fish. I cannot eat fish because I am allergic, meaning I had to have the meat dish. Luckily most of the time I liked the choices, as I am not a fussy eater. For others, especially with children this may have been a problem.
Also, as we were with Riviera they asked us to come to tea at a specific time. It was really too late for me to eat and would have enjoyed it more with an earlier time.
The pool area was good and clean. No need to get up at 6 to reserve a sunbed!
All in all a good hotel!
Ha soggiornato il Luglio 2013, viaggiato con la famiglia
3 su 5 stelle Qualità/prezzo
3 su 5 stelle Posizione
4 su 5 stelle Qualità del sonno
5 su 5 stelle Stanze
5 su 5 stelle Pulizia
5 su 5 stelle Servizi
ParkHotelLeFonti, Direttore alle Park Hotel le Fonti, ha risposto a questa recensione.
5 Agosto 2013
Dear emma s,
thank you for your review.
Eggs, sausage and croissants for breakfast are freshly prepared so that they are always hot, I am sorry you had to wait for them.
Anyway I am pleased that in spite of some details you have spent a nice holiday at our hotel.
LOVELY HOTEL, STUNNING VIEWS! Volterra
(From Tuesday, July 09, 2013, never expire)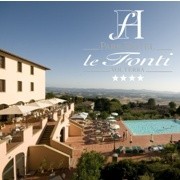 Indietro