A JEWEL IN THE HILLS OF TUSCANY
4 su 5 stelle - Recensito il 13 settembre 2013

A very good hotel with stunning views over the Tuscan countryside. The food was good and wines were better. The pool was a great addition to the hotel and a free Jacuzzi and sauna were a real bonus. Our room was on the front, facing the car park but it was very quiet and peaceful.
The rooms overlooking the pool had great views but they overlooked the bar terrace and it was a little noisy when people were there late drinking. The staff in the restaurant were very good but they could have done with a few more pairs of hands when the hotel was full.

Ha soggiornato in Settembre 2013, viaggiato in coppia
4 su 5 stelle Qualità/prezzo
5 su 5 stelle Posizione
5 su 5 stelle Qualità del sonno
4 su 5 stelle Stanze
5 su 5 stelle Pulizia
4 su 5 stelle Servizi

ParkHotelLeFonti, Direttore alle Park Hotel le Fonti, ha risposto a questa recensione.

14 ottobre 2013

Dear bgee123,
many thanks for your review, we are happy that you have had a good holiday with us!
If you come back remind us that you have already been our guest and we will glad to offer you a discount of 10% on the price of the room.
A JEWEL IN THE HILLS OF TUSCANY Volterra
(From Friday, September 13, 2013, never expire)


recensioni by:
PARK HOTEL LE FONTI, Volterra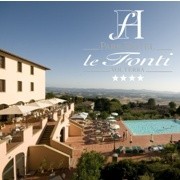 Indietro