News
Pisaonline.it primo portale su Pisa dal 1996!
La versione Mobile attiva dal 2012!
Aggiornamenti continui su Pisa e provincia

OFFRES SPÉCIALES | COMMENTAIRES | À ET PRÈS DE | PHOTO | VIDEO | ÉVÉNEMENTS | NEWS | OFFRES D'EMPLOI

À ET PRÈS DE PISA
ACTIVE TOURISM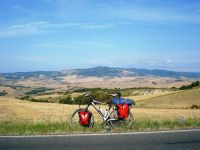 For those who want not only visit our beautiful cities, taste our typical dishes and relax, we propose a range of activities to be performed in and around Volterra.

TREKKING/HIKING

Wonderful walks to discover the Natural Reserves of our country. Among woods, castles and streams you can see wild boars, hawks, deer, buzzards, foxes, porcupines and other animals that live from always in our areas.

CYCLING

Tuscany offers an ideal landscape for cycling enthusiasts. Our hilly area, visited by mountain bike, allows the contact with nature and the opportunity to immerse themselves in a landscape rich in history and nature.

RIDING

A few minutes drive from the hotel you can find the riding stables of our confidence. Carers will make you explore the countryside of Volterra through woods and trails with the help of your trusty steed.

CANYONING

About an hour drive will take you to the place from which you will begin the descent of a part of a torrent with the necessary equipment and the instructors at your side. An adventure that will keep you in suspense and will immerse you in a wild and untouched nature.

ADVENTURE PARK

In about half an hour's drive you can have a walk in a forest above floor level. The different tours designed according to the difficulty, allowing children and adults to walk on trees safely.




ACTIVE TOURISM
À et près de article by:
PARK HOTEL LE FONTI, Volterra