News
Pisaonline.it primo portale su Pisa dal 1996!
La versione Mobile attiva dal 2012!
Aggiornamenti continui su Pisa e provincia

SPECIAL OFFERS | REVIEWS | IN AND AROUND | PHOTO | VIDEO | EVENTS | NEWS | JOB OPPORTUNITY

IN AND AROUND PISA
ARCHIVE ARCHIEPISCOPAL OF PISA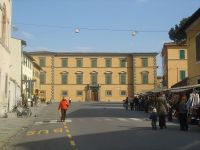 Archive Archiepiscopal of Pisa

Square Archbishopric
56123 -Pisa
Tel 050-565518
Fax 050-550600

The archive has been recovered in November 2001. Don is the controller of Nieri .
The archive archbishop of Pisa is one of the most important in Italy and has over 1,300 years of life , since his oldest document dates from the year 720 when Pisa and Tuscany were under the Lombards . Despite the destruction and removal perpetrated over the centuries , the store still maintains over 5000 scrolls with documents of various kinds, private deeds , diplomas imperial and papal bulls that have been made ​​available to scholars and journalists. In addition , the store has collected a few hundred records and documents relating to the history of the Church and of society Pisa against the Pope and the rest of Italy , with particular reference to Corsica and Sardinia.
ARCHIVE ARCHIEPISCOPAL OF PISA
In and around article by:
PORTALE PISA, ITALY, Pisa