.: AZIENDE PISA :.


CANALI di PISAONLINE

PISA AZIENDE

PISA DA VIVERE

PISA DA VISITARE

P
ISA DA STUDIARE

E
VENTI & NOVITA'

F

OTO GALLERY

VOLTERRA

SAN MINIATO

COMUNI DI PISA

PARTNERSHIP
Ricettività

PARTNERSHIP AZIENDE

STATISTICHE PISAONLINE

PUBBLICITA'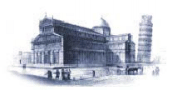 | | | |
| --- | --- | --- |
| | New wines growing fast | |
In addition to the traditional Chianti delle Colline Pisane, new DOC wines are being created, making this area one of the most interesting in the entire region.

Th
e province of Pisa has been producing wine from time immemorial. In recent years, the best of ancient tradition has been enhanced by an intelligent use of modern wine-making techniques.

In

the context of the great Tuscan tradition, Pisan wines now hold an important position and are increasingly successful not only in terms of turnover but also for the esteem on the part of wine-lovers and experts all over the world.

The province's wines have attained top-level standards, and old and new family-run farms have become fully-fledged companies that make wines boasting DOC and DOCG labels guaranteeing their quality.
Th

e hills of Pisa provide an ecosystem particularly suited to wine-growing thanks to the beneficial influence of the nearby Tyrrhenian Sea. Classic Tuscan grape varieties prevail, namely sangiovese and trebbiano toscano, followed by malvasia del Chianti and vermentino.

Though the varieties of grapes are the same, Pisan wines each have a distinctive personality: the main ones are Chianti delle Colline Pisane and the Bianco Pisano di San Torpé, Montescudaio and Colli dell'Etruria Centrale. The Chianti delle Colline Pisane production area covers a large expanse of land from the Pisan hills to San Miniato. Made with classic Chianti grapes (sangiovese, canaiolo nero, trebbiano toscano and malvasia del Chianti), it is a bright red colour and boasts a rich bouquet and a dry flavour that makes it ideal with red meat and game.
Between the Arno and Cecina rivers, at the foot of the western slopes of the Chianti hills, lies the area where the most typical of Pisan white wines is made, San Torpé, named after Pisa's first saint and martyr.
Produced in a vast area, this white wine was created by Chianti producers who enhanced the trebbiano toscano variety by mixing it with malvasia toscana and cannaiolo bianco grapes. Bianco di San Torpé is a dry, delicately-scented wine, pale yellow in colour, perfect with fish and light starters. It also exists in a Vin Santo version, a dessert wine that goes well with biscuits and sweets.
The Montescudaio DOC variety, considered one of Tuscany's most promising wines, is produced near the Val di Cornia and the province of Leghorn.
The production area is located in the hills close to the Tyrrhenian coast and includes the municipalities of Montescudaio, Guardistallo, Casale Marittimo and Riparbella.
The red is mostly made with sangiovese, canaiolo nero, trebbiano toscano and malvasia del Chianti grapes - a very similar blend to Chianti, but the wines from this area are smoother, due to the beneficial influence of the sea. A brightly-coloured dry wine with a rich bouquet, the red goes well with red and white meat and mature cheeses.
The white is made with trebbiano toscano, canaiolo bianco, vermentino and malvasia del Chianti grapes and is recommended with starters and delicately-flavoured first courses, fish and shellfish. Production regulations also allow a Vin Santo made with the same blend of grapes.
The Colli dell'Etruria Centrale DOC area coincides with that of Chianti delle Colline Pisane, but producers must choose one or the other. Red, white, rosé and Vin Santo are the types permitted. Red and rosé are made with a blend of grapes similar to that of Chianti, while white and Vin Santo are also a mixture of typical Tuscan grapes with the addition of small quantities of pinot, either blanc or gris. The red wine goes well with white and red meat, the rosé with garlic bread and pork products, while the white is a classic all-round wine.

Articles
Beyond the Tower

by Aldo Canale

Great tourist attractions

by Gino Nunes

What to do with a great past?

by Marco Tangheroni

Cursed Meloria

by Renzo Castelli

One miracle leads to another

by Lucia Capitani

Balancing inclines

by Lucia Capitani

The art of memory

by Clara Baracchini

Heirs and rivals of the Eternal City

by Clara Baracchini

Sculpted pulpits

by Lea Mattarella

Did he really "raise his mouth from his savage meal"?

by Gaetano Savatteri

"Normal", in a manner of speaking

by Guglielmo Vezzosi

In the park of kings, a life fit for a king

by Fabrizio Carbone

The horse village


Volterra, splendour and mystery

by Eleonora Tiliacos


A cuisine that follows the rules of the sea

by Davide Paolini


C
hickpea


The sacred legume shaped like a ram's head

by Giorgio e Caterina Calabrese

Wine
New wines growing fast

Norcinerie alla pisana

Tartufo
Un "bianco" da primato

Olio
Verde nettare di frantoio

Formaggio
Profumo di pascoli

© Ulisse rivista di bordo Alitalia