.: AZIENDE PISA :.


CANALI di PISAONLINE

PISA AZIENDE

PISA DA VIVERE

PISA DA VISITARE

P
ISA DA STUDIARE

E
VENTI & NOVITA'

F

OTO GALLERY

VOLTERRA

SAN MINIATO

COMUNI DI PISA

PARTNERSHIP
Ricettività

PARTNERSHIP AZIENDE

STATISTICHE PISAONLINE

PUBBLICITA'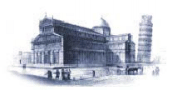 Great tourist attractions


by Gino Nunes

Culture, nature, gastronomy - an alluring mixture of offers and resources.

Amicrocosm for all seasons and tastes. This is how I would answer a friend's questions about Pisa and its province - with satisfaction and a hint of pride.
First of all because it wouldn't be an exaggeration, but the plain truth; and secondly because in these years the provincial authorities have devoted all their energies to presenting an extensive and varied visitors' programme, aware of the wealth of tourist attractions in the area.
First of all, our historical and architectural heritage - towns and villages, naturally, but also the churches and aristocratic villas to be found in abundance within the borders of our province. An immensely precious legacy that has given rise to an extensive, constantly evolving and up-to-date museum system. Culture is a fixture in Pisa and in other towns, both big and small (San Miniato, Volterra and all the others). Not only in the sense of art, but as a general expression of "beauty" in a wider sense - and of "goodness" as well, since Pisa's gastronomic and wine-making traditions, whose importance has been recently discovered by Italian and foreign visitors, has proved one of the most effective means of attracting tourists.
An "added value" whose potential is represented by the wide choice of holiday formulas (traditional and "new") for which Pisa is known throughout the world: sea vacations on the Marina and Tyrrhenian coasts, farm holidays, visits to the spas of San Giuliano, Casciana and Uliveto, and discovering Nature's bountiful splendour in the Park of San Rossore.

Gino Nunes, President of the Province

Articles
Beyond the Tower

by Aldo Canale

Great tourist attractions

by Gino Nunes

What to do with a great past?

by Marco Tangheroni

Cursed Meloria

by Renzo Castelli

One miracle leads to another

by Lucia Capitani

Balancing inclines

by Lucia Capitani

The art of memory

by Clara Baracchini

Heirs and rivals of the Eternal City

by Clara Baracchini

Sculpted pulpits

by Lea Mattarella

Did he really "raise his mouth from his savage meal"?

by Gaetano Savatteri

"Normal", in a manner of speaking

by Guglielmo Vezzosi

In the park of kings, a life fit for a king

by Fabrizio Carbone

The horse village


Volterra, splendour and mystery

by Eleonora Tiliacos


A cuisine that follows the rules of the sea

by Davide Paolini


C
hickpea


The sacred legume shaped like a ram's head

by Giorgio e Caterina Calabrese

Wine
New wines growing fast

Norcinerie alla pisana

Tartufo
Un "bianco" da primato

Olio
Verde nettare di frantoio

Formaggio
Profumo di pascoli

© Ulisse rivista di bordo Alitalia